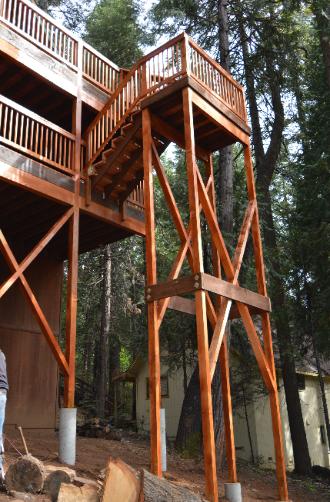 This is a high two story deck we did in Arnold, CA. Here's what our customers said about their deck!
"The deck is just amazing. We are so impressed."
"Just want to tell you how impressed we are with you and your crew. We were so surprised and excited to see the flooring in on the downstairs deck. It's beautiful. 
We can hardly wait to see what surprises we will have next weekend. Also, your crew is so neat and tidy. I can honestly say, I so appreciate it. It's an absolute pleasure coming up during this construction period…"
Here's what our customers are saying about their new deck below! 
"Went up last weekend to check the deck and we're very impressed! The added width in the back part is quite noticeable – good idea. Also a good idea (which we hadn't known about) is the concrete pad where the old steps were. The whole thing is a lot prettier, too, in the natural finish." 
-Walter & Nancy Hay, Arnold, CA